Hulco trailers with wheel stop
Are you looking for wheel stops for your trailer? Hulco has aluminium wheel stops with tie down options that are made for the Carax multipurpose trailers and the Terrax plant trailers.

Aluminium construction

Click system for positioning

Safe and easy to use
Securing vehicles with wheel stops
When transporting cars, vans, aerial work platforms, scissor lifts, shovels and mobile excavators on a Carax or Terrax, you must take the force exerted on this vehicle into account. Such as driving wind and G-force in a road turn or when accelerating and braking. To prevent slipping, use the wheel stops at the front and rear of the vehicle. These can be clicked into the side wall at the desired position. You can then secure the vehicle with an Easyfix strap set. Hulco wheelstops are available in lengths of 150, 180, and 207 cm.
Benefits
Lightweight aluminium construction.
Safe and easy to use.
Attaches to the sides.
Includes tie-down options.
Click system for positioning.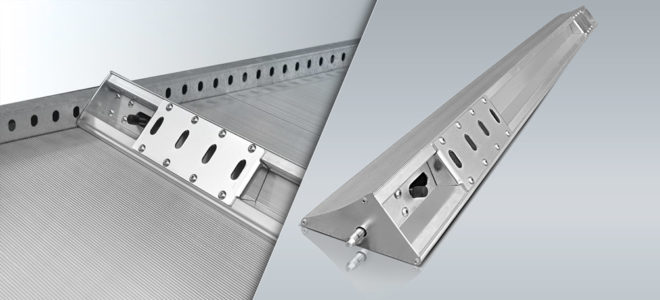 Buying Hulco wheel stops
You can buy wheel stops at your local Hulco-dealer. The Hulco dealer can also advise you on all Hulco models and matching accessories.