Hulco trailers with Easyfix strap set
Are you looking for a strap set to secure a vehicle safe and quick on a Hulco multipurpose trailer or plant trailer? Hulco offers Easyfix strap sets.

Securing the vehicle safe and quick

High-quality woven polyester

Suitable for wheel stop
Hulco Easyfix strap set
The Carax and Terrax models are made for transporting vehicles. Hulco has also thought about securing cars, SUV's, garden machines, quads, shovels and mobile excavators. Hulco (in collaboration with Anssems) developed the aluminium wheel stop with tie-down options, which is optimised for an Easyfix strap set. An Easyfix strap set can be used with all Carax models in combination with wheel stops. For tracked vehicles, we recommend a standard strap set (breaking strength +2000 kg).
The benefits
Secures the vehicle quickly.
Tensioning the strap is easy.
Strap with grip pad, ratchet and hooks.
High quality woven polyester.

Optimised for wheel stops.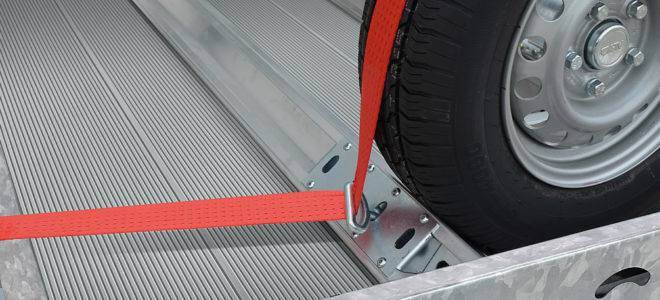 Buy a Hulco Easyfix strap set
You can buy a Hulco Easyfix strap set at your local Hulco dealer. The Hulco dealer can also advise you on all Hulco trailer models and matching accessories.